So, it's safe to say that the theme of 2019 in my home as been LEGO. From the moment I walked into the LEGO store here in Atlanta, I knew I had revived a childhood interest that would not relent.
From that, I have created an entire story, The Township, which has been such a joy to write and share with any and every individual that has come to visit.
So, as I was browsing some LEGO blogs today, I came across a post over at BRICKTASTICBLOG asking for people to vote on their top 5 LEGO sets from 2019. While I voted over there, I thought it would be fun to list my choices here and offer up a little explanation for each one!
Let's review!
5. Ford Mustang – 10265
I don't even own this set, but it's one of my favorites from a design perspective. The smooth tiles, the customization, and the working doors and steering wheel all go a long way in making this set cool, but let's be real here… it's the 1968 fastback look that just makes us all so excited. This vehicle from the golden age of muscle cars embodies all the stuff that I thought was cool about cars as I was going through high school. I recall my friend's dad would bring a Shelby GT500 to our local old car show and I was so jealous that he had one. I'm still a little jealous now, if I'm honest. What a cool vehicle, and what a cool set on top of that!
---
4. NASA Apollo 11 Lunar Lander – 10266
I picked this set up the very weekend it came out. Space is a soft spot for me, after all. I grew up on Florida's "Space Coast" and regularly watched the space shuttle launch from Cape Canaveral. My father was always involved in the space industry and I grew up assuming that I would too. I ended up in Hunstville and every morning I drove by the Saturn V rocket at the Space and Science Center! In fact, one of the first LEGO purchases I made as an adult was several years ago when I picked up the LEGO Ideas – NASA Apollo Saturn V – 21309.
The lander fits right into my home and I loved the building methods used to capture some of the detail of the lander cabin and the base plate for it to rest on was icing on the cake. It is one of my favorite sets to show off when I have company over, and I am eagerly awaiting a UCS Space Shuttle (hint hint LEGO).
---
3. Jurassic Park: T. Rex Rampage – 75936
It has been said that I am a walking Jurassic Park joke. At almost every meeting during work hours you will discover that I've got at least one reference to the famous film that will find its way into our conversation. When they announced this set, one of my coworkers looked over their shoulder at me and said, "So, you're getting this, right?"
I have the large JP gate sitting on a shelf at work right now, while the T. Rex has found its way back home where my daughter and play with it and making roaring sounds.
The high piece count, the comical easter egg, and the perfectly chosen scenes built into the gate pushed this one into the top three for my sets this year. It was a beautiful merger between my love of LEGO and dinosaurs, of which I owe a great deal to Stephen Spielberg… though I imagine I've already paid him enough thanks to these licensing deals!
---
2. Corner Garage – 10264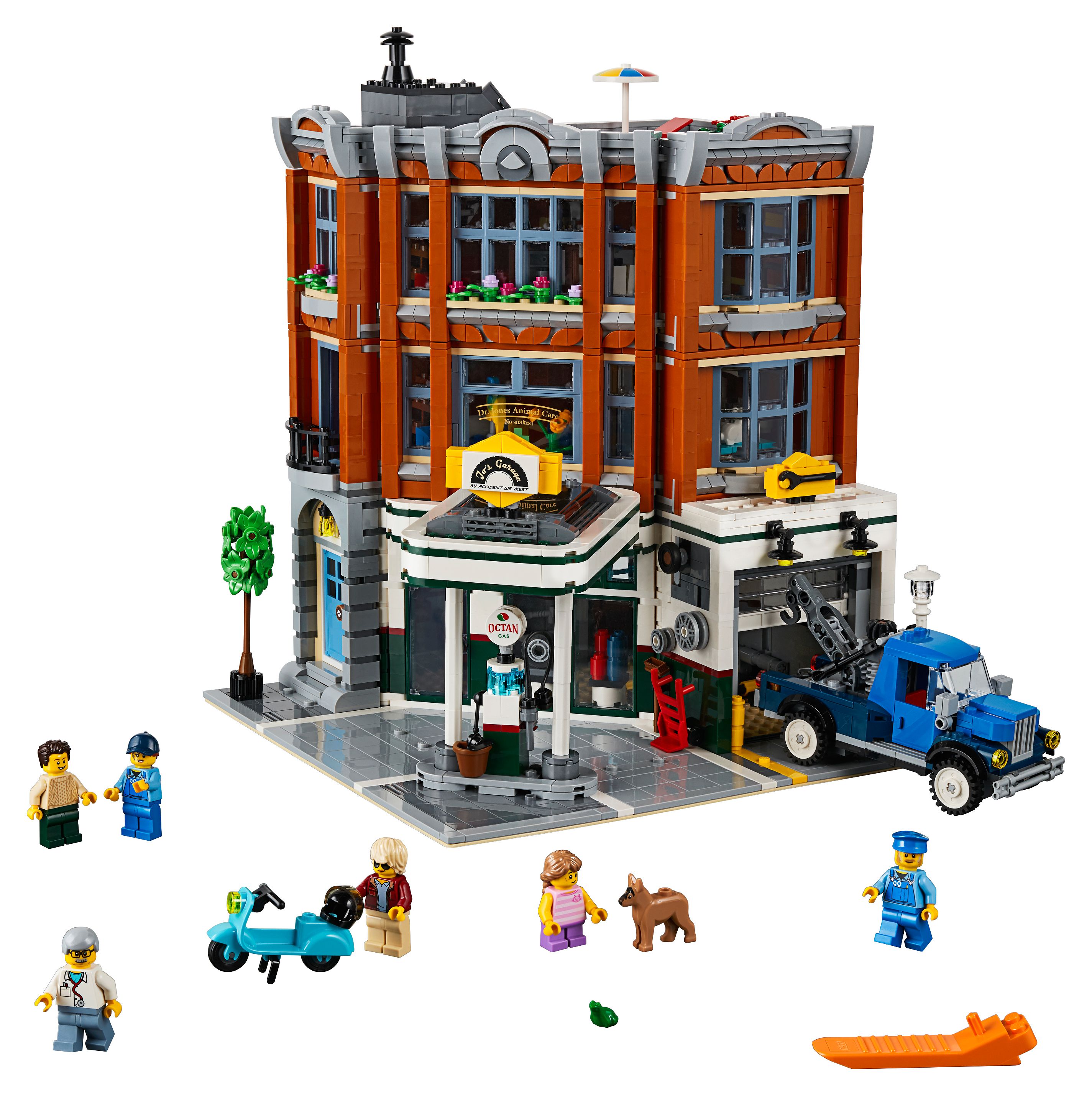 This set was my first modular to buy on the release date. These amazing buildings are what pulled me into LEGO as an adult and I have fallen head over heels in love with them all. We came into the game late, so we have only purchased the last few years, going back to the pool hall, directly from LEGO. From there I was driven to the online vendors to hunt down the older buildings in the series…
As this set is my "first" to buy along with other collectors, it holds a special place in my heart. I loved the building decisions they made here, especially the angled walls that are used. The use of the OCTAN logo, the tow truck, and the hip Vespa Minifig were all super fun to see too. I also appreciated the color scheme and how it works next to the Downtown Diner, a trend I am happy to see continue in the 2020 modular Bookshop.
All that being said, though, there was another set that I think takes the number 1 spot for 2019…
---
1. Tree House – 21318
This LEGO Idea set may not seem like the clear winner for some, but to me it hits a lot of the best checks when it comes to picking up a new LEGO set. The first is pieces. The set comes in at 3,036 pieces, which means plenty of time to spend putting it all together. The next thing is price. The Tree House competes with Create Expert series for price per piece, and blows others away, such as the mustang, which has less than 50% of the pieces and is only 25% cheaper. Finally, the design aesthetics. When visitors take a look at the tree house, they say, "Whoa." That's a big deal when you're putting these things on display. You get some satisfaction from showing them how it all goes together, the interior of the homes, the different colors for the leaves, etc.
The set also scratches some nostalgia for me, as I was a big fan of tree houses as a kid and, thanks to my father, I had one of the coolest treehouses around during my childhood, complete with zip lines and metal swing sets!
So, when you add it all up, the Tree House tops the list for me.
---
Happy Holidays!
I don't know if it'll ever be read, but I did want to thank BRICKTASTICBLOG for the clever idea and the trip down the last year of LEGO sets. I am eager to see what 2020 has to offer and I am hopeful that this time next year I'll have another great list of sets to dote upon.
To everyone that takes the time to check out my writings, thank you so much. I know I'm not a staple in everyone's homes, but knowing that my words are present in a digital space where others might read and know what I think is a pretty cool privilege of my generation.
I hope each and every person has a marvelous holiday season, or summer, and I can't wait to bring more posts and more stories, and more EVERYTHING to you soon!
Don't forget that we'll have a special HOLDAY story for The Township coming out on Christmas week! And also stay tuned for more information on where I want Technicooldad to go in 2020 and beyond!