There are a few major things that will draw my attention to a LEGO set. The first is detail. Any kind of LEGO set that goes over the top on detail (usually by using lots of pieces) is going to be on my RADAR. I love sets like the Creator Expert series modular buildings or the absurdly large Millennium Falcon. Another thing I'm drawn to, strangely enough, is boats. When I was a kid, I had a floating police boat, fishing boat, and at least two sets that were coastal sets. I remember desperately wanting my parents to get me blue-tinted plastic sheets (like they use for those florescent lights) so that I could have an ocean for my boats.
Off the top of my head, my childhood was filled with several of these aquatic sets:
6540-1: Police Pier
4021-1: Police Patrol Boat
4011-1: Cabin Cruiser
6338-1: Hurricane Harbor
So, that trip down nostalgia lane doesn't seem related to anything on the topic at hand, but it all comes together, I promise.
For example, I present to you, two shiny LEGO sets that immediately caught my attention, both of them from the Hidden Sides theme:
Okay, so it's a boat. I love boats.
Then, we have…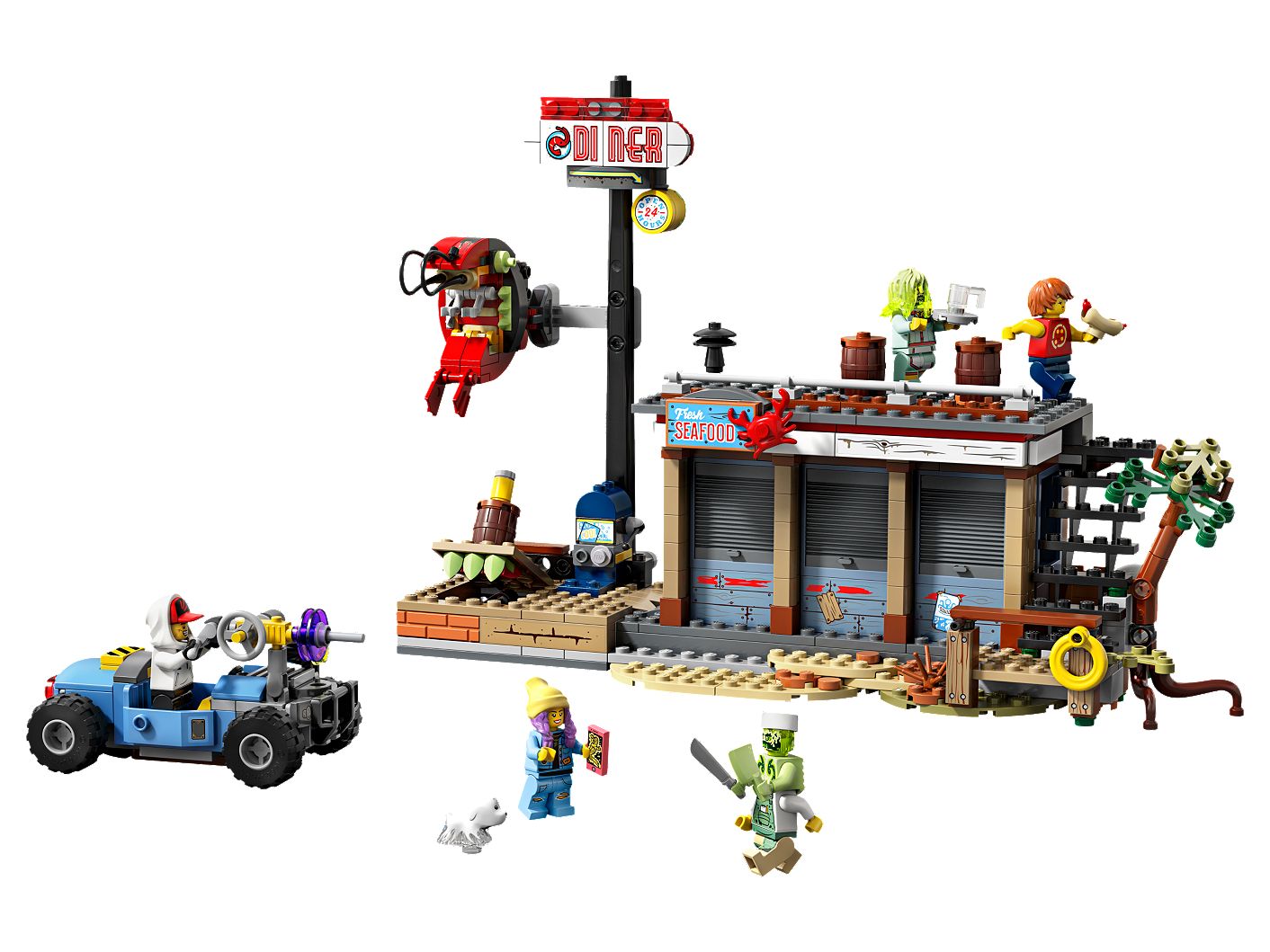 I mean, a shrimp restaurant, right on the coast? Ah, it's too good to pass up.
So, Hidden Side was released earlier in 2019. I ignored most of them until we saw the shrimp shack in the store and I realized that it would make a great set piece for use in some future content that I'm working on *wink* *wink*.
The shrimp boat was a bonus win, and I can thank a Christmas gift card for letting me bring that one home without hitting the wallet.
So, with the sets at home and building complete, I was finally drawn into what I can only call one of the most entertaining Augmented Reality (AR) games that I have ever played.
---
LEGO® HIDDEN SIDE™
The coolest part of the LEGO sets is that they they each have interface into a mobile app that you can use to play two very interesting types of games.
You can get the app here:
Google Play (Android)
Apple iTunes
---
A Video Game?
I know that sounds crazy. I will admit, I have never been a huge advocate for Virtual Reality (VR) or Augmented Reality (AR) games.
For quick clarification, VR games are the ones where you put on a headset that covers your eyes and creates 3D worlds for you to explore and manipulate with various levels of intensity. Meanwhile, AR games are ones that use a camera, generally on phones, to overlay a game on top of the real world.
Of course, the AR side of it only comes into play if you have the physical set and want to play as a Hunter. Otherwise, you can just play as a Ghost on your phone with no LEGOs required. I have found both modes to be fun, though they work entirely differently.
Hunters
The LEGO Hidden Side Hunter mode is an AR game, so you use your phone to play by pointing your camera at a physical set and letting it load up a 3D world around it. I played on my kitchen table and it quickly turned the surface into a spooky coastal scene.
Once you're loaded in, three players join the game as "haunters" from their phones. They each have a team of three ghosts, comprised of red, blue, and yellow. The point of the game for the "hunter" (me in AR) is to use my phone to seek out and hunt down each of the ghosts that are trying to "gloomify" my set. The "haunters" can use one ghost at a time, but can change colors to hide from me, depending on what color I'm scanning for.
Honestly, it's all a little overwhelming at first, but once you've had a few rounds to warm up you start to feel like a pro. That being said, I have one only one round as a hunter so far, which happened while I was trying to capture some screenshots for this review.
Ghosts
This mode is the one that I imagine four out of every five individuals will play the most. Without throwing down any money on Hidden Sides sets, this is the only mode you can play, and honestly, it's awesome for a Free game.
You select a team of three ghosts, again you can have a yellow, blue, and red one. You load into a 3D world (No AR) and run around collecting green "gloom" that you then shoot at someone else's LEGO set. All the while they are the Hunter that is trying to blast you! If you lose all three of your ghosts, you're out of the game and it's up to the other two players to haunt the set before time runs out!
---
My Opinion?
This game is great. Most importantly, the LEGO sets appear to be the full cost of entry. There wasn't a single microtransaction to be found in the app, which I think is monumental in 2020.
So, LEGO fan or not, if you're even slightly interested in gaming and have a phone, there's no reason you shouldn't be haunting up some LEGO sets right now! And if you're a fan of LEGO and some of the Hidden Side sets, well you get the bonus of a fun game at no additional cost.
It's too cool to pass up.
Let's reward those LEGO developers for this one. They deserve it!